It is said (although that phrase in itself is often a clue to take the following 'reported' comment with a good pinch of salt) that it was Anne of Bohemia, wife of Richard II, who is credited with introducing the fashion for women to ride sidesaddle. As 'The Sporting Magazine' vol. 18 (April 1801) puts it, she managed
"in 1382 ... to abolish, even in defiance of France, the safe, commodious, and natural mode of riding hitherto practised by the women of England, and to introduce the sidesaddle."
I assume that until then women had usually ridden horses astride (
"the natural mode of riding hitherto practised"
) when mounted alone, or were seated on a cushion and facing sideways when riding pillion behind the principal rider's saddle. Anne apparently introduced the earliest specifically-designed sidesaddle in England, which was chair-like with the woman sitting sideways on the horse with her feet on a small foot-rest. I doubt one could ride very fast and to look forward you had to have the head turned right round to face over one shoulder, but this is essentially how many people - often in fact males - ride on plodding donkeys to this day: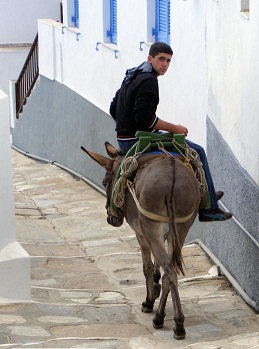 And so Anne's special saddle would appear to have simply evolved from this practice of sitting sideways or by being perched behind another rider.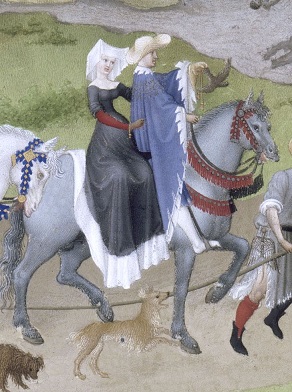 A woman riding pillion sat sideways behind her man - a detail from 'August' of the 'Très Riches Heures du Duc de Berry' (c.1415).
At about exactly the same time as Anne of Bohemia's supposed innovation, Chaucer described several lady riders in 'The Canterbury Tales'. Of the 'Wife of Bath' he said,  
Upon an amblere esily she sat,Y-wympled wel, and on hir heed an hatAs brood as is a bokeler or a targe,A foot-mantel aboute hir hipes large,And on hir feet a peyre of spores sharpe.'Upon an amblere esily she sat'
(she sits comfortably on an ambling horse) and has
'a peyre of spores sharpe'
(a pair, ie two, of sharp spurs), and so she must have been riding with her legs astride her mount. Contemporary illustrators picked up on that cue: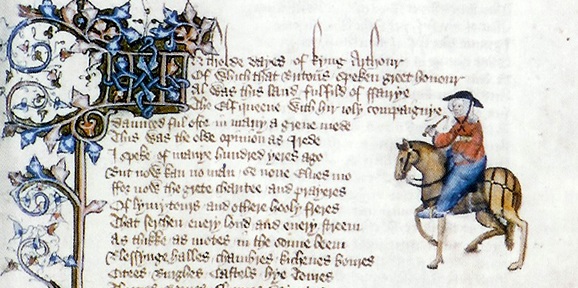 The prioress, however, wears the long habit of the Benedictine order covered with a voluminous riding cloak, which would have allowed her to demurely ride astride her horse if she had chosen so to do. Chaucer describes her as: intoning the divine service
'ful semely
' (politely); '
Frenssh she spak ful faire and fetisly
' (she speaks fluent and elegant French); she has impeccable manners,
'At mete wel ytaught was she with alle, She leet no morsel from hir lippes falle'
 (at meals she was well taught; she let no morsel fall from her lips);
'And peyned hire to countrefete cheere, Of court, and to been estatlich of manere
(and she took pains to imitate the manners of the court and to be dignified in behavior). Although Chaucer does not explicitly say so, she is usually depicted as riding sidesaddle on her fashionably groomed horse. Note the apparent positions of her feet, knees and torso - she is not perched as one would on a modern sidesaddle, with the knees bent and the torso facing forward, but is simply sat sideways on the horse's back, so she is probably sitting on something like Anne of Bohemia's saddle/chair.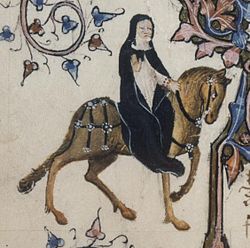 But when did something resembling a modern sidesaddle appear? 
Elizabeth I rode from an early age and was an accomplished horsewoman her entire life. She frequently hunted deer - requiring a fast mounted pursuit - and even when in her sixties she regularly rode 10 miles or so, rather than take a carriage. After her ascession she appointed her favourite, Robert Dudley, as 'Master of the Horse' with specific orders to import faster, stronger horses. This was as much to improve English cavalry stock as for her own personal use but she clearly took a keen interest in horses and riding. Contemporary paintings seem to show her riding something akin to a modern sidesaddle with the knees raised and the torso turned to face forward, and indeed with a well-designed sidesaddle she could have chased deer and vaulted fences as well as any Edwardian lady hunting with the hounds. But contemporary Elizabethan illustrations also show her apparently hunting in full court dress! So I do wonder, especially considering Elizabeth's sometimes masculine 'kingly' demeanor, whether she didn't very often ride astride her horse, at least when at leisure amongst trusted nobles.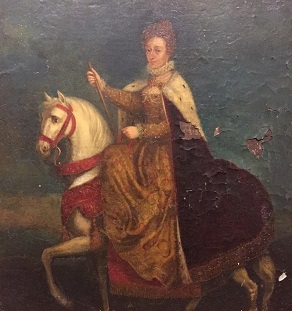 Contemporary equestrian portraits of Elizabeth I are not common, but this one, albeit in rather poor condition, depicts her in coronation robes and was painted, or copied, not that long after the event. It clearly shows her riding with the right knee raised and probably supported by an off-centre pommel on a saddle specifically designed to be ridden sidesaddle. But of course all the interesting details are well hidden under the swathes of fabric.
Fashion; the drive to keep women in their place behind their man; that women should never be seen to be able to act like men; and for them to be swathed up chastly with not so much as an ankle, let alone the knees or thighs, being visible -  are probably what principally drove the move towards sidesaddle riding, at least for ladies of quality. However it was also thought that riding astride a horse might endanger a woman's health and in particular her ability to have children. As a newly-wed Marie-Antoinette, after learning to ride in order to accompany her husband on the hunt, abandoned the long flowing skirts of a sidesaddle rider and adopted slim breeches as part of her equestrienne attire. Women of the time did sometimes wear breeches for riding but they were typically covered with petticoats and skirts to ensure the legs remained demurely hidden from view. However there was also the concern about the effect of riding astride a horse on her ability to conceive (and the couple did not produce any children until seven years into their marriage, although admittedly she had been married at just fourteen years of age). Marie-Antoinette's mother, the Empress Maria Theresa, begged her to give up the habit of riding astride a horse, writing:
"Riding spoils the complexion, and in the end your waistline will suffer from it and begin to show more noticeably. Furthermore, if you are riding like a man, dressed as a man, as I suspect you are, I have to tell you that I find it dangerous as well as bad for bearing children - and that is what you have been called upon to do; that will be the measure of your success."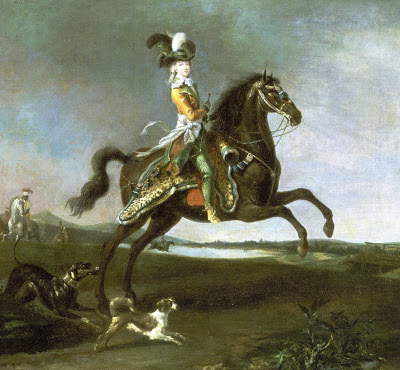 'Marie-Antoinette on Horseback' by Louise-Auguste Brun (1781-82).
Marie-Antoinette did finally comply with her mother's wishes and gave up riding astride, at least publically, when she became queen.