@Triceratops wrote:

The Beeb are making a version:

BBC: War of the Worlds
I not sure what to make of the drama series now that it has completed its broadcast run. Overall I'd like to say that the BBC made a good fist of it. My main interest, however, was to see how they handled the novel's Chapter Seventeen
The Thunder Child
and I have to say that that was botched. The main point of the
Thunder Child
episode is that the ship was torpedo ram. H.G. Wells writes:
'
The Thunder Child fired no gun, but simply drove full speed towards them. It was probably her not firing that enabled her to get so near the enemy as she did. They did not know what to make of her. One shell, and they would have sent her to the bottom forthwith with the Heat-Ray.
'
Yet the series producers had the warships all firing at the tripods immediately on sight. None of the ships was identified by name and none was torpedo ram. Wells also says that the Martian Fighting Machines were:
'
standing so far out to sea that their tripod supports were almost entirely submerged. Thus sunken, and seen in remote perspective, they appeared far less formidable than the huge iron bulk in whose wake the steamer was pitching so helplessly. It would seem they were regarding this new antagonist with astonishment. To their intelligence, it may be, the giant was even such another as themselves.
'
The drama producers, however, had the ships firing ship to shore and bringing the tripods down while they were still on land. Oh dear.
Away from the television series, criticism has sometimes been levelled at Michael Trim, Geoff Taylor and Peter Goodfellow (who created the iconic artwork on the album of Jeff Wayne's 1978 musical version) for depicting the ship as a two-funneled pre-dreadnought such as a Swiftsure-class or a Canopus-class battleship rather than as a one funnel torpedo ram like HMS Polyphemus:
Yet in the novel Wells does describe Thunder Child as having '
twin funnels
'. In this it would more closely have resembled the torpedo ram
KDM Tordenskjold
of the Royal Danish Navy. Translated as 'thundershield' it was built in 1882 it had 2 funnels raised on it lengthwise: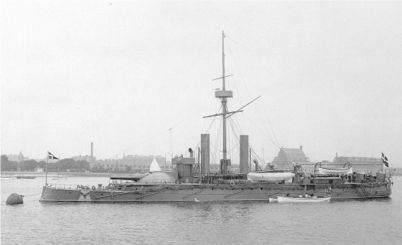 (Torpedo ram of the Kongelige Danske Marine named after the 18th century Norwegian admiral Peter Tordenskjold)
Having two funnels, however, is not necessarily the same thing as having 'twin funnels' as specified by Wells. Having twin funnels (i.e. funnels abreast) was a feature of the
Majestic-class
battleships including the appropriately named
HMS Mars
built in 1896:
(HMS Mars belching enuff black smoke to make a Martian's eyes smart)
It's also worth noting that nowhere in the novel does Wells use the prefix 'HMS' when referring to Thunder Child. Neither does he state which country's fleet she belongs to. He does say of the ironclads at the scene that they were part of the 'Channel Fleet'. So presumably they're British. He does, however, mention the multi-national make-up of fishing vessels in the Thames Estuary – 'English, Scotch, French, Dutch, and Swedish'. The word Danish, however, is conspicuously omitted from that list. Mmm. I would guess that Wells imagined the Thunder Child as being a sort of cross between HMS Mars, HMS Polyphemus and KDM Tordenskjold. A formidable literary creation in any event.