The ship, according to the images being released, drowned gracefully and with dignity. Such was a fate denied to its crew, felled in the weeks and months that followed their abandonment of the ship by scurvy, lead poisoning and exposure, resorting even to cannibalism in their desperate but doomed attempt at survival.
HMS Erebus
Officers
Sir John Franklin, Captain, Commanding the Expedition
James Fitzjames, Commander
Graham Gore, Lieutenant
H.T.D. Le Vesconte, Lieutenant
James Walter Fairholme, Lieutenant
Robert Orme Sergeant, Mate
Charles Frederick Des Voeux, Mate
Edward Couch, Mate
Henry Foster Collins, Second Master
James Reid, Ice Master
Stephen Samuel Stanley, Surgeon
Harry D.S. Goodsir, Assistant Surgeon
Charles Hamilton Osmer, Purser
Warrant Officers
John Gregory, Engineer
Thomas Terry, Boatswain
John Weekes, Carpenter
Petty Officers
John Murray, Sailmaker, age 43
William Smith, Blacksmith, age 28
Thomas Burt, Armorer, age 22
James W. Brown, Caulker, age 28
Francis Dunn, Caulker's Mate, age 25
Thomas Watson, Carpenter's Mate, age 40
Samuel Brown, Boatswain's Mate, age 27
Richard Wall, Ship's Cook, age 45
James Rigden, Captain's Coxwain, age 32
William Bell, Quartermaster, age 36
Daniel Arthur, Quartermaster, age 35
John Downing, Quartermaster
Robert Sinclair, Captain of the Foretop, age 25
John Sullivan, Captain of the Maintop, age 28
Phillip Reddington, Captain of the Forecastle, age 28
Joseph Andrews, Captain of the Hold, age 35
Edmund Hoar, Captain's Steward, age 23
John Bridgens, Subordinate Officers' Steward, age 26
Richard Aylmore, Gunroom Steward, age 24
William Fowler, Purser's Steward, age 26
John Cowie, Stoker
Thomas Plater, Stoker
Able Seamen
George Thompson, age 27
John Hartnell, age 25
John Stickland, age24
Thomas Hartnell, age23
William Orren, age34
William Closson, age25
Charles Coombs, age28
John Morfin, age25
Charles Best, age23
Thomas McConvey, age24
Henry Lloyd, age26
Thomas Work, age41
Robert Ferrier, age29
Josephus Geater, age32
Thomas Tadman, age28
Abraham Seeley, age34
Francis Pocock, age24
Robert Johns, age24
William Mark, age24
Royal Marines
David Bryant, Sergeant, age31
Alexander Pearson, Corporal, age30
Robert Hopcraft, Private, age38
William Pilkington, Private, age28
William Braine, Private, age31
Joseph Healey, Private, age29
William Reed, Private, age28
Boys
George Chambers, age18
David Young, age18
Icemaster James Reid from Aberdeen. His watch was recovered from Eskimos by John Rae in 1854 whose expedition set out but failed to locate the site of the tragedy.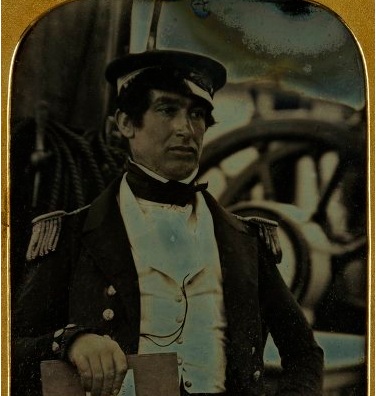 Henry Thomas Dundas le Vesconte, pictured on board the Erebus. The waistcoat he is wearing in this image was also recovered by Rae.
The artefacts recovered by Rae are now at the
Greenwich Maritime Museum
.
Portraits of many of the crew members can be found on the
Scott Polar Research Institute
website.
Pentangle's haunting rendition of "Lord Franklin" from their 1970 Cruel Sister album.